Scroll down to view meetings list
Location
Currently, we meet at:
Trinity Presbyterian Church
6800 Washington Ave
St. Louis, MO 63130
It's just around the corner from the church where we met in for so many years. We are now in the fellowship hall of the church. Enter at the door on Kingsland Ave – the door between the outside stairs and the bell tower. Inside, there are a few steps to go down into the room, but also a modern elevator if you need it.
Parking: You can park on the street or in the free COCA parking lot across the street on Washington Ave.
Meetings
Tuesday, March 21, 2023 at 6:30 pm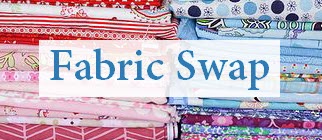 We're not meeting at the church this month; we're having our annual fabric swap at a members home. To engage in the fabric swap fun:
Go through your stash and pull fabric you no longer want.
Bring it to the meeting.
Take a look at all the other fabric and pick something new for your creative quilting endeavors.
Bring a treat, such as cookies to share with others. We'll have coffee, iced tea, and soft drinks.
Tuesday, May 16, 2023 at 6:30 pm
More details to come.
Tuesday, July 18, 2023 at 6:30 pm
More details to come.
Tuesday, September 19, 2023 at 6:30 pm
Yearly Potluck Dinner
Members bring a favorite dish or a new one to share. We traditionally answer a question to share a story about their quilting life.
Tuesday, October 17, 2023 at 6:30 pm
Quintessential Quilt 2023
Enjoy a special presentation associated with our quilt exhibit. More details to come.